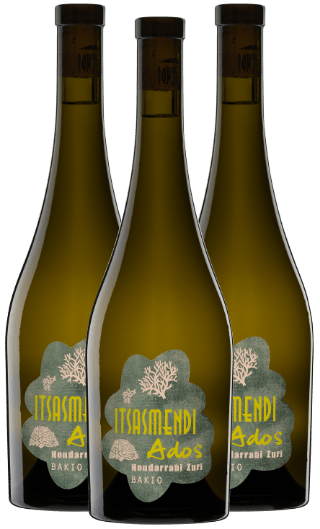 Complex and elegant
In search of the soul to be found in each vineyard. Each one seen as a small and interconnected, yet completely distinct ecosystem. Each unique vineyard as an imperfect piece of paradise that turns the grape into a drink fit for the gods.
A Txakoli to enjoy the moment
Vineyard
The landscape of Basarte, fed by several natural springs of iron-rich water that can be seen in the redness of the earth, is located in the municipality of Bakio, with a proud tradition of Txakoli production in the 20th century. A vineyard that benefits from a second week of ripening, which always brings a degree of complexity and elegance.
Characteristics
Pale yellow color with greenish tones that shows the seen his fresh and young profile. Citrus and mineral aromas linked with herbaceous such as the tea plant and a background of fresh grass that after a period in the glass they open towards white fruit and even a fruit of bone.
Tasting notes
The palate is fresh and balanced with a very good mid palate, with fat and acidity. It is a fruity and fresh txakoli that It leads to a floral and mineral finish. Its express salinity the proximity of this plot to the Cantabrian Sea.
Online shop
¿Do you want to taste Itsasmendi?
Visit our online store