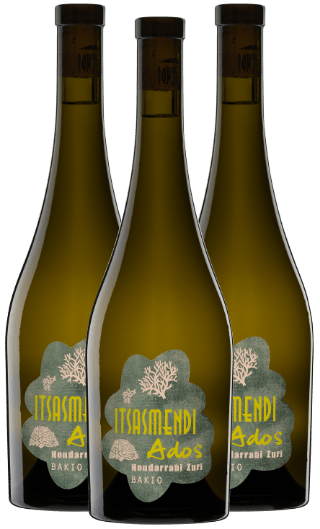 Complex and elegant
In search of the soul to be found in each vineyard. Each one seen as a small and interconnected, yet completely distinct ecosystem. Each unique vineyard as an imperfect piece of paradise that turns the grape into a drink fit for the gods.
A Txakoli to enjoy the moment
Vineyard
The landscape of Basarte, fed by several natural springs of iron-rich water that can be seen in the redness of the earth, is located in the municipality of Bakio, with a proud tradition of Txakoli production in the 20th century. A vineyard that benefits from a second week of ripening, which always brings a degree of complexity and elegance.
Characteristics
Its pale yellow colour with green tones belies its sensory profile, but this is a reflection of a vintage with an extremely Atlantic character that has produced incredibly fresh Txakolis with good ageing potential.
A background of floral aromas overlaid with white fruit (sweet pear) and orange peel-like citruses with a chalky mineral undertone, softened by a brief ageing over two months in red earthenware jars.
Tasting notes
The mouth-feel is fresh and balanced, with the acidity of this vintage. It opens with fresh, fruity notes while its finish is floral and fruity mixed with aromatics. Its hint of saltiness gives away its proximity to the Cantabrian Sea.
Online shop
¿Do you want to taste Itsasmendi?
Visit our online store